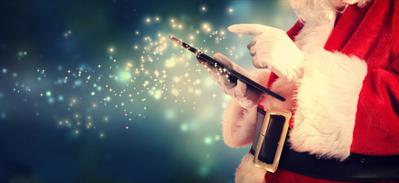 The holidays are rapidly approaching and it's time to start shopping for the latest tech gifts for the technology junkie on your gift list. You want your gift to stand out and impress the recipient, so we've put together this season's must-have tech gifts.
Home Automation
For the SmartHome lovers that want everything automated and simplified, there are a variety of must-have gifts.
Amazon Echo ($99) – If someone wants to check the temperature or turn off the lights, Alexa, Echo's voice assistant, can easily accomplish these tasks. As a bonus, this model is less expensive than the first generation and features better audio, a fabric finish and compact design.
Amazon Echo Spot ($129) – For those that want an alarm clock that does more than just wake them up, the Spot can read the latest news headlines, give you the weather forecast and much more.
Gaming and Entertainment
Whether you know a die-hard gaming fan or simply want to introduce today's younger generation to gaming and entertainment devices, these picks will have recipients singing your praises.
Nintendo Super NES Classic ($79) – This is a must-have gift for anyone that grew up in the 1990s and remembers the original. As an added bonus, this comes with the never-before-released "Star Fox 2," post-processing filters to make visual effects appear retro and two replica controllers. Remember to plan ahead, as it's anticipated this item will fly off store shelves.
Google Daydream ($99) – We are classifying virtual reality under entertainment since this is a growing trend. If you want to give the gift of VR but want to explore an inexpensive option, this is your ticket.
Nintendo Switch ($299) – This must-have gaming system is for anyone who loves Nintendo games. It's portable and features a stellar screen.
Great Outdoors
We all know shopping for outdoors enthusiasts can be tough, but we're pretty confident we put together a winning list.
BioLite CampStove 2 ($129) – For people that need to keep their tech gadgets charged at the campsite, this portable camp stove burns wood to charge your phone and boils water.
Streamlight 75454 Stinger LED Flashlight ($145) – This tactical flashlight is perfect for those that love the outdoors, hunting or want to be prepared for any natural disaster. It offers an impressive 50,000-hour lifetime, is extremely rugged and resists water.
Petzl Ultra Rush ($430) – This headlamp is expensive, but well worth it for those that camp, trek, run or bike. Boasting newer technology, this professional headlamp is built solid and is super bright. It's also resistant to falls and impacts.
Sports Enthusiasts and Active Lifestyles
For the athlete or workout fiend in your life that loves the latest gear, check these out:
BeatsX Wireless Headphones ($149) – These wireless earbuds are a must for athletes and runners. The sound is superb, they're a comfortable fit and they stay in place during workouts.
Fitbit Ionic ($299) – If the Apple Watch is a little too pricey this season, take a second look at the Fitbit Ionic. This model features more options than the Blaze and includes a heart rate sensor, tracks oxygen levels over time and monitors sleeping habits.
GoPro HERO5 Session ($299) – This is the ultimate gift for the adrenaline junkie that loves to capture his/her adventures using hands-free action. This camera is tiny and is easy to control via voice commands.
Old-School Friends
We all have someone on our Christmas list that has old technology or is resistant to change. These are perfect gifts for that special someone.
HP Sprocket 2-in-1 Camera ($159) – If you know someone that still prefers prints of their photos or is looking for a modern polaroid camera, this model lets you print photos wirelessly from any tablet or Smartphone. It's also super compact and features a 5-megapixel camera.
Garmin Speak ($149) – For someone driving an older car that doesn't have an infotainment system, this mountable accessory lets you control smart devices at home, stream music, ask for driving directions and much more. It's the best hands-free device on the market for older cars.
Gifts That Are Just Plain Cool
If your friends or family don't fit into any of the above categories and you still want to wow them with the latest tech gifts, don't forget to check out these picks.
Apple Watch 3 ($399) – If you've been waiting for the ultimate Apple product that supports checking email, voice calls away from the iPhone, texting, etc., take a long look at this must-have gift of the season. Not only is it useful and makes it easy for you to multitask, but it also features a striking aesthetic and has complementary swappable wristbands.
Dyson V8 Animal Cord-Free Vacuum ($499) – OK, gifting a vacuum isn't always high on the list, but any animal lover will not only appreciate this spectacular gem, but he/she will jump for joy. This cordless wonder has a charge that lasts 40 minutes and modifies to a handheld to remove pet hair from furniture. Yeah, we thought you would be impressed.
Skybell Doorbell Camera ($199) - Home Telecom's newest product is a must-have this season! Waiting on a special delivery? If someone comes near your front door or rings the doorbell, you'll be notified on your smartphone or tablet and a video will be taken of the person. The best part is that once you purchase, there is no monthly fee so it makes the perfect present to put under the tree for your loved ones! Be sure to learn more here!