MONCKS CORNER, SC November 21, 2019 — Confirming their commitment to superior customer service, Home Telecom won a 2019 Calix Innovations in Subscriber Experience award at the 2019 Calix ConneXions Innovation and Learning Conference in Las Vegas.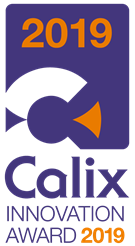 Subscriber award winners are recognized for leading the way with next generation networks and elevated subscriber experiences built on Calix platforms. As a winner, Home Telecom was also congratulated for their partnership on joint Calix marketing projects throughout the year.

The Calix ConneXions event is an annual gathering of innovators and thought leaders from the communications service provider industry, who share the latest innovations that help them evolve their business models. These include deploying new services to elevate the subscriber awards experience while generating new revenue streams.

According to Calix, this year's winners represent both traditional and non-traditional communications service providers who serve regions around the country, and frequently triumph over national competitors in order to serve their subscribers. They demonstrate outstanding creativity and have deployed best-in-class services over the last year. The awards showcase innovation in the use of cloud and software platforms, systems, and services to transform business models, networks, and the subscriber experience.

"Home Telecom believes there has to be a perfect balance between offering rapidly changing cutting-edge technology; taking a leadership role in getting that technology out to a growing community; and still providing outstanding, personalized customer service and experiences," said Home Telecom President and CEO William Helmly. "Calix has been an excellent partner for us in helping to leverage projects, like encouraging economic development by providing the technology to support gigabit internet and WiFi to the area's expanding business corridor; and they support our efforts to maintain a highly personalized customer experience. We are honored to accept this prestigious award."

"Calix ConneXions 2019 was a rousing success, once again living up to its reputation as the industry's best innovation and learning conference," said Calix Executive VP of Field Operations Michael Weening. "This year's Calix Innovation Award winners are no exception, as they all made incredible contributions in advancing our industry. Congratulations to Home Telecom, which has leveraged the power of analytics to help set the standard in subscriber experience. We look forward to expanding our partnerships and building on your success in the coming year and beyond."

About Home Telecom
Home Telecom is an integrated communications provider located in Moncks Corner, SC providing telephone, high speed Internet, video, and security services to residents and businesses in Berkeley, Dorchester and Charleston counties of South Carolina. They utilize a variety of state-of-the-art technologies, most notably FTTP technology, making them a leader in providing the fastest broadband internet services in the state.

About Calix
Calix, Inc. (NYSE: CALX) – Innovative communications service providers rely on Calix platforms to help them master and monetize the complex infrastructure between their subscribers and the cloud. Calix is the leading global provider of the cloud and software platforms, systems, and services required to deliver the unified access network and smart premises of tomorrow. Our platforms and services help our customers build next generation networks by embracing a DevOps operating model, optimize the subscriber experience by leveraging big data analytics and turn the complexity of the smart home and business into new revenue streams.

Contact Caoimhe Zett at caoimhe.zett@hometelco.com, (843) 761-9859 for more information.