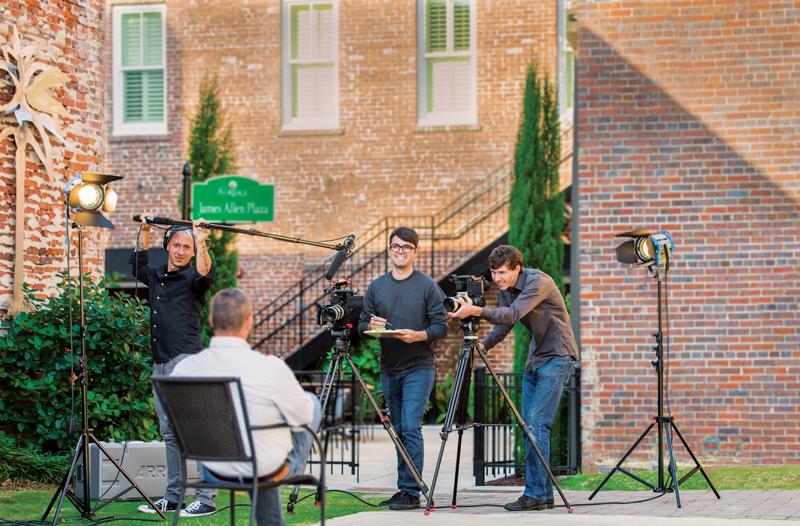 The Telecom Challenges Facing Small Business
Nothing pushes a company's computer and software capabilities to its very limits like video editing applications. The process requires massive resources to upload, store, and manipulate footage; to add and render special effects; and to save and share the final product.
However, missing from the equation over the past several years has been fast internet connections that allow companies to move and manage enormous amounts of data in the form of raw video footage at speeds that meet the demands of production. Sluggish internet connections in the field of high-definition video production is the equivalent of having an operator manually patch through a long-distance phone call during the early days of the telephone, or having to turn the crank shaft on the first automobile to get it running.
Although theses comparisons may seem extreme at first, one needs only to compare the video production efficiency at the Meade Agency's Florence, South Carolina location, to the same efficiency as their Summerville location where Home Telecom's new GigaFi™ gigabit speed internet service delivers the same data 60-times faster!
The facts are not an exaggeration. The average internet speed in Florence is 10 megabits of data per second (mbps) versus that of 1,000 mbps at the new location in the Nexton community of Summerville, SC. There, the amount of time required to process the data needed to produce high-definition, quality video can be measured in minutes, rather than hours!
South Carolina's Meade Agency
Founded by husband and wife marketing team, Kris and Whitney Meade, the Meade Agency has grown from a single video production facility in Florence a decade ago, to two locations with eight employees and still growing. The Meade Agency had already solidified plans to branch out into the Charleston market to take advantage of the city's many business opportunities, but when Kris learned Home Telecom offered GigaFi Internet capability in Nexton, it was an immediate enticement. Understanding the benefits to his business specifically, Kris said, "Wow, I've got to have it!"
The agency's ability to better serve their clients in Summerville's Nexton community with faster production times has allowed them to diversify the agency's services to include drone aerial photography and video, conventional photography, graphic design, website and logo development, social media management, sound engineering, and consulting.
The Meade Agency's ability to produce dynamic imagery and creative sound, color, and motion strengthens their objective in bringing their client's message to life. "Now we can play a vital role in helping our clients achieve the vision they have for the future of their business," says Meade. "The rising demand for high quality video is a big factor in our growth, and the industry has finally opened its eyes to the need for, and effectiveness of, video production. It is a powerful medium that's leading the way in the communications industry and Home Telecom's advanced internet technology is vital to making it happen."
More than Fast Internet
While gigabit speed is more than 60-times faster than traditional internet, Home Telecom is offering their business clients like the Meade Agency even more benefits. Made available through Home Telecom's own in-house Velocity Fiber Network, Gigabit capability also delivers advanced managed business Wi-Fi, IPTV with unrestrained applications, everything high-definition, and connections to everywhere!
That means more power for every facet of video production, editing, streaming, and storage; unfettered use of multiple devices; no-lag online applications of all kind; and super-fast upload and download speeds.
According to Home Telecom president and COO, William S. Helmly, "GigaFi goes beyond internet to provide an experience that is like having all bandwidth constraints lifted," he says. "We believe GigaFi will drive innovation and provide the conveniences of tomorrow, today."
The Future of the Internet is Here
"I'm a walking billboard for Home Telecom's GigaFi," says Meade. "To put it into perspective, it takes on the average, two to three hours per day, per video at the Florence office to apply and render video. It takes only two to three minutes for the same process in Summerville."
"We are committed to providing the Meade Agency, and other data-driven SMBs with the most innovative tools and the highest level of technology available in order to help them grow and become successful," says Home Telecom Sales Representative, Bill Fenters. "We also provide the Meade Agency with cutting edge telephone, television, and security services as well."
"Ongoing customer support for all of these services is outstanding," says Meade. "If we have any issues arise from these services, we turn to our Home Telecom local technician, Shawn Trotter, who is surprisingly down-to-earth in spite of being a top-notch technical guy. He is a phenomenal asset to the Meade Agency and our future plans for expansion."
The Meade Agency is specifically pursuing an expanded client base in areas where Home Telecom currently provides gigabit internet service because it plays such a vital role in operational efficiency.
As early as 2004, Home Telecom began offering Fiber-to-the-Premises on Daniel Island and immediately began expanding their fiber network throughout Charleston, Dorchester, and Berkeley Counties. In 2013, they became the first to offer gigabit internet services in the Tri-county through its partnership with Nexton in Summerville. Today, Home Telecom is actively serving over 12,000 homes and 1,000 businesses with fiber, and currently passing an additional 11,000 addresses in the Tri-county area, including the Meade Agency.