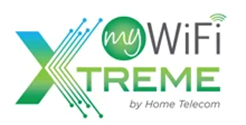 Home Telecom is proud to present MyWifi Xtreme app, the latest Smartphone app that works with your Home Telecom services. Let's explore the many benefits of this robust app and its numerous features.
What You Can Do From the MyWifi Xtreme App
The MyWifi Xtreme app allows you to complete a myriad of tasks quickly.
Reset or Change Password - Quickly log in to the app, change your password, or reset your Wi-Fi network name.
Devices - See all the devices using your Wi-Fi and control which ones should or shouldn't be connected.
Press Pause - Press pause on the internet at any time and get your kids and family to take a timeout from electronics and enjoy family meals together.
Routines - School is in full swing again, so help kids set healthy habits by scheduling downtime and limit access to electronic devices, such as games, during school hours and at least two hours before bedtime.
Guest Networks - If you have visitors, create a shareable guest network, which is also great for pet sitters, house sitters and babysitters. You can text your guests login information directly from the app.
Automatic Updates - Get automatic Wi-Fi security updates and 24/7 remote support.
Parental Controls at Your Fingertips
For Home Telecom subscribers with children, the parental features in the MyWifi Xtreme app are robust, working to protect children from inappropriate and harmful online content. The following parental controls are available in the app.
Block Sites - Parents can block sites and inappropriate categories online that may include violence or pornography.
Block Applications - If you don't want your children playing violent video games, such as Call of Duty or Fortnite, you can block these applications. You can also limit social applications, such as Snapchat or Facebook.
Time Limits - Limit how much time children can spend on specific applications, such as YouTube or TikTok.
Safe Search - Parents can set restrictions for what appears when children do online searches in Google and Bing and put restrictions on YouTube to limit inappropriate content.
View Usage - If you're battling for bandwidth with your family, you can now understand internet usage in your home and what devices (or person or child) are online the most.
Set Schedules - Setting schedules lets you prioritize devices to focus on work applications during the day, and entertainment applications in the evening.
Download the app for your iPhone or for your Android and learn more about MyWifi Xtreme app.