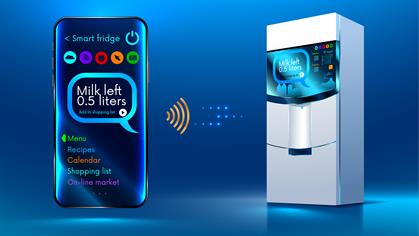 Did you know there are many devices in your home that sneakily use your bandwidth? That's right! If asked how many devices in your home connect to the internet, you may say your smartphone, computer, laptop, tablet or gaming device. But did you know there are probably a lot more bandwidth devices that you're not accounting for in your home? Let's explore what uses the most bandwidth in your home.
What Uses the Most Bandwidth: Smart Locks
Smart locks allow homeowners to control their door no matter if they're away or in another area of the home. These digital locks are ideal for VRBO and Airbnb landlords who need to reset locks between new guests remotely. However, many people forget that they too rely on internet access to work properly. Interested in learning more about smart locks? HomeSmart also offers the Yale Zwave lock as an add-on.
Smart Refrigerators
Smart refrigerators are gaining in popularity. They allow you to easily monitor and control your appliance remotely, even allowing you to view the inside of the frig while you're in the grocery store. You can also use voice control for hands-free experiences, track expiration dates, compile shopping lists, browse the internet and even create virtual bulletin boards for your family.
Home Security Systems
If you have a video security system, such as Home Telecom's HomeSmart Security System, Nest Cam or Ring, it requires access to an internet connection to work correctly. Many of these home security systems also feature smoke and carbon dioxide detectors.
Garage Appliances
Monitor and control your garage door with your tablet or smartphone and receive alerts if you leave your garage door open for an extended period. HomeSmart features the Zwave Garage Door Controller as an add-on service, so you can control your garage door while you're away from home.
TVs
We all know that TVs stream our favorite shows, but did you know that streaming relies on internet access? So whether you want to browse the latest cable TV offerings, Netflix, Amazon or premium channels, catching the latest programs relies on broadband access. Additionally, if you have Home Telecom's HomeStream TV, you'll need a streaming-compatible TV that will also use bandwidth.
Thermostats
Digital thermostats that connect to your devices, such as HomeSmart's Zwave Thermostat or the Nest Thermostat, allow you to schedule heat and AC from the convenience of your smartphone. But did you also know that some of these devices will learn what temperatures you enjoy and then build a schedule around the data it collects from you? As a result, you'll likely end up with significant cost savings by embracing technology that you can help control when you're away from home.
Alexa Devices
You may be wondering what uses the most bandwidth, but did you know that if you have an Amazon, Google or Apple device, these smart devices rely on the internet to pull data and communicate with other smart devices in your home.
Coffee Makers
Today's new coffee makers don't simply make a pot of black brew, but they allow you to schedule, monitor and even modify your java from anywhere.
Irrigation Controllers
Today's advanced irrigation controllers can learn predictive schedules, and you can access them using the web or your smartphone.
Smart Ovens
Ovens are getting an overhaul. We doubt Popular Mechanics could have predicted that today's modern ovens allow you to preheat the oven from your smartphone. Additionally, smart ovens feature the ability to turn the oven on or off whether you're home or away, adjust any timers and settings remotely, send all cooking notifications to your phones and can even pair with smart assistants such as Google or Alexa.
Today's smart devices have revolutionized our world and changed our homes for the better. However, it's important to remember that all these devices rely on internet connection to function correctly, which is why it's necessary to take them into account when determining the number of connected devices in your home and when choosing a Home Telecom internet plan.
Bandwidth Calculator
Interested in learning what uses the most bandwidth in your home or how much bandwidth your home needs? Visit Home Telecom's bandwidth calculator.