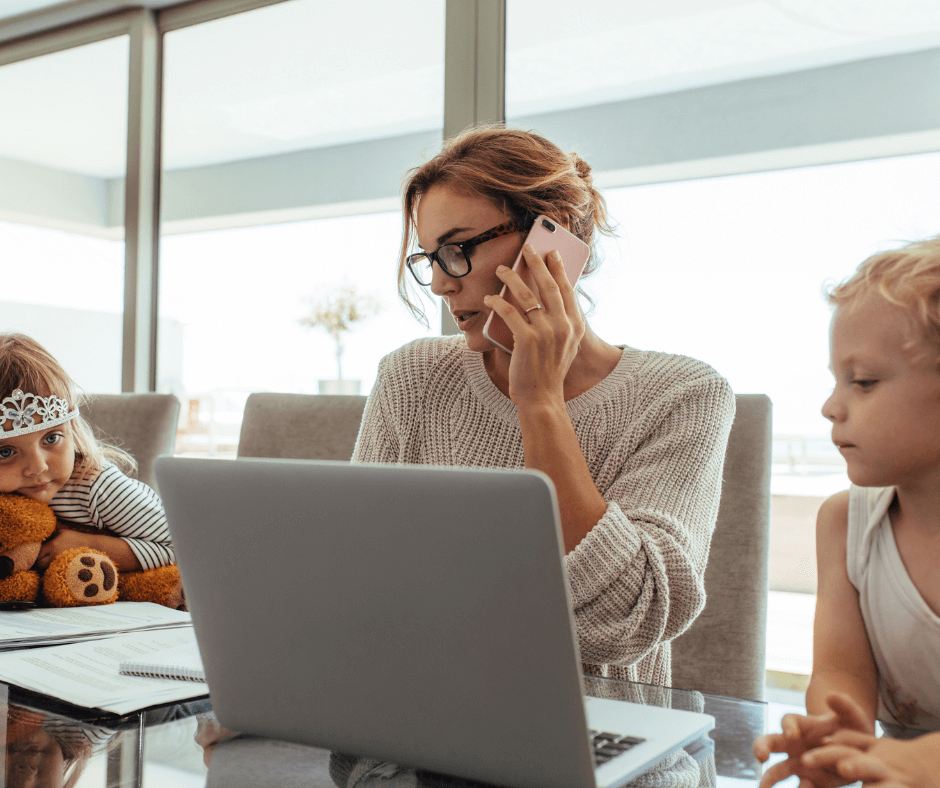 Many Americans were forced to work from home (WFH) over the last year, whether it was by choice or mandate due to COVID-19 requirements. Are you one of the millions that have enjoyed working from home, or are you still working from home until your business reopens to full capacity?

Working from home can have its advantages and disadvantages. Home Telecom has rounded up work from home pros and cons.
Work From Home Pros
According to a survey conducted by Ninetex in 2021, employees rate the following:
56% of employees enjoy working from home to spend more time with their friends and/or family.
48% of employees say that working from home allows them to spend more time on their hobbies, such as cooking.
47% of employees say they are enjoying not having any daily work commute.
46% of employees are thrilled with not having a dress code and are likely saving money on clothing.
31% enjoy the freedom to set their own schedule.
Work From Home Cons
A survey by Ezvid Wiki highlights some surprising things that employees miss most when working from home.
35% miss not having work colleagues to speak to regularly.
21% grow frustrated and miss having the conveniences of on-site tech support.
21% of employees miss having office equipment, such as printers, copiers and fax machines, at their disposal.
14% miss the free perks, such as coffee, tea and refreshments.
4% miss going out to eat lunch regularly.
Making Work From Home Pros and Cons Work for You
If you're one of the millions forced to work from home and you're not adjusting well to your new schedule, consider implementing some of these habit-healthy tips to make the most of your homebound work time.
Maintain Regular Hours - Stick to a schedule to make sure that you have a work-life basis. Start work at a set time and finish work at a set time. Consider looking into time-tracking apps to make sure that you're making the most of your time. Check out this list of top time tracking and productivity programs.
Morning Routines - It can be easy to fall out of regular routines when you work from home. Consider getting back into your routine. Find out what motivates you. Some people work well in their PJs with a cup of coffee, while others need to exercise, shower and dress before tackling their day.
Ground Rules - If your family or roommate is also home while you're working, you may likely need to set some ground rules so you can keep interruptions to a minimum. Be clear about what people can and can't do during necessary quiet times (such as when you're on video or phone conferences).
Schedule Breaks - In the office, you have the chance to talk to coworkers and give your eyes a brief break from the computer screen. Scheduling regular breaks can help make you more productive and give your eyes a chance to rest during the day.
Dedicated Office Space - In an ideal world, your home has a dedicated office space where you can close the door at the end of the day and leave your workload behind until morning. However, if your home doesn't afford such luxuries, consider setting aside a space that acts as a home office.
Socialize with Coworkers - Just because you don't see your coworkers face-to-face regularly doesn't mean you can't socialize with them over team messaging apps, such as Slack. Companies that have healthy remote work cultures know the importance of online team comradery.
Be Positive - We know that 2020 and 2021 have been rough for everyone, but together we can get through this so we can once again return to normal. A positive, upbeat attitude will work wonders to give you the mental courage and strength to overcome obstacles.
Remember that we are all in this together, and returning to normalcy is right around the corner!